Not all companies have issued convertible bonds, but since the beginning of 2020, there are a lot more that have done so. New issuance has both substantially increased the size of our market, as well as broadening its sector representation. With more convertibles in the parking lot ready for a test drive, there can be bargains found in terms of valuations.
It took a pandemic—ironically enough—to get the assembly lines rolling again. The first set of lockdowns to respond to COVID-19 in early 2020 meant that some companies needed to raise capital; for others, the new conditions created opportunities and reasons to invest.
For companies that faced obvious challenges from restrictions to travel, such as airlines and cruise operators, convertibles worked very well to raise equity-like funding. We saw issuance from North American and European carriers including Southwest, Lufthansa, and Air Canada and Carnival Cruises and Norwegian Cruise Lines, among others. In fact, many of these issuers including Carnival chose to convert early after their stock prices recovered, whereas they would have had to repay any straight debt issuance with cash. Other issuers saw a boom in business because of the pandemic, for example, software companies that could help enable remote work or study, and were looking to the convertible market to reinvest and raise funds to grow. Finally, we saw issuers that were raising convertible debt to help them outlast weaker companies in their sectors. Many of these issuers were retailers or from the consumer discretionary sector, and plenty were first-time entrants to the convertible market, including Under Armour.
From the lows of early 2020, markets have moved far higher thus far, and rising stock prices are often a reason for issuers to raise convertible bonds. During 2021, we have noticed some of the same themes in terms of who really needs capital versus who simply wants it, but the sector representation has continued to expand. Convertible markets have traditionally favoured high growth issuers, often more niche operators from the tech and healthcare sectors. With the latest wave of issuance, we are seeing more well-known consumer-facing companies such as Spotify, Expedia, Asos, and Airbnb raise fresh convertible paper.
The graph below shows the development of our market since the start of 2018 in terms of sectors, which is one way to get a sense of the broadening of our market. Also, we note that the size of the convertible market has increased by 1.5 times since 2018, rising from $440 billion as of January 2018 to $690 billion at the end of April 2021. The demand for new bonds has been good, but the flurry of issuance has increased supply at a higher rate, which means that the market price of some convertibles has dipped below theoretical valuation; that is, what the convertible might be worth if separately valuing its option and bond components. That has led to some bargains that are now spread out among a wider range of issuers and sectors.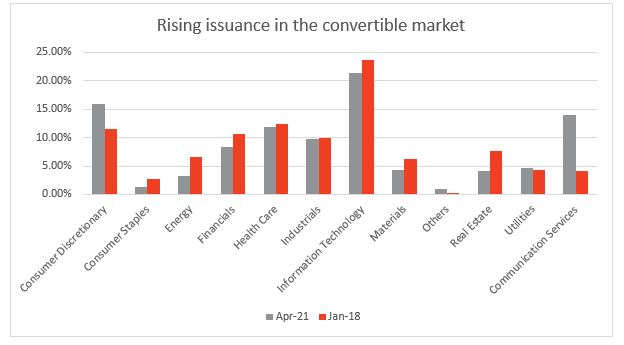 We believe that with a persistence of volatility and the possibility of higher rates, convertibles will remain attractive for issuers looking to access capital. We face a future more volatile than might have been imagined during much of the 2010s, where investors were generally rewarded uniformly for taking on risk. Now, with equity markets following a bumpy course but with credit tightening to new lows, investors might see that now is a good time to take a ride in a convertible.