In the investment world, nobody is right all the time. Investing is an inherently probabilistic pursuit. The RWC Global Equity Income strategy acknowledges the risk of being wrong and simply aims to lean the probability of investing success in your favour.
Rowing is a sporting discipline at which Great Britain has excelled in recent years, but it hasn't always been that way. Before Steve Redgrave and his crewmates rowed for gold medals in the Los Angeles Coxed Fours event in 1984, Great Britain had not won an Olympic rowing gold since London 1948. Fifty years later, spurred on by the remarkable subsequent consistency of Redgrave and the likes of Matthew Pinsent and brothers Greg and Jonny Searle, Great Britain's under-achieving Men's Eight crew set themselves the goal of winning an Olympic gold medal at the 2000 Sydney Olympics, with just two years to get there.
At the time, this was seen as an ambitious, some suggested crazy, objective because the Men's Eight crew were more used to coming last in races than they were coming first. Nevertheless, the team set out to improve their performance and developed a statistically more attractive way of working together. This involved challenging everything they did with the question, "Will it make the boat go faster?". If the answer to this question was yes, they would keep on doing it – but if it was no, they would try something else.
As the Sydney Olympics approached, the team's results started to improve. The new disciplined approach was paying off. By focusing purely on the things that were important, by working together more effectively, learning from mistakes and by making small, subtle changes which were all aimed at improving their performance, the Men's Eight boat started to move through the water at a faster rate. The odds of Olympic success started to improve.
Given its inherently probabilistic nature, this is a useful analogy for the world of investment, and the RWC Global Equity Income team operates with a similar attitude to this Men's Eight crew. Every activity the team undertakes is aimed at leaning the probability of long-term investing success in your favour.
As 2020 amply demonstrated, the future is highly uncertain, and it will inevitably be shaped by unforeseen events. As investors, we simply have to accept the fundamental truth that not everything is forecastable, and some events are beyond our control. Nevertheless, in spite of this uncertainty, there are always things that we can do to improve the probability that we will deliver successful outcomes for our investors.
Compounding a higher yield
The first of these things, is hard-wired into our investment approach. We will only invest in stocks if they yield at least 25% more than the yield of the global stock market. This yield discipline ensures that our strategy will be compounding a higher yield than the market. We discussed the concept of "The power of dividends" in greater detail in another article recently, but to summarise, consistently compounding a higher yield than the market, can have a profoundly positive effect on returns over longer time periods.
Sticking within our sphere of competence
Our yield discipline sits at the heart of our investment approach and distinguishes us from our competitors. It immediately reduces our global investment universe to approximately 750 companies. These won't be the same companies over time, but they will possess similar characteristics of a sustainable business model and cash flows available at a reasonable yield. These opportunities typically only occur when a quality company is surrounded by some form of risk or controversy.
We have identified five different buckets of controversy, and all of our investment ideas will fall into one of these buckets. By focusing our attention on these five buckets and ignoring anything with which we are not already familiar, we always remain firmly within our area of competence. We believe this reduces risk, because the likelihood of understanding the nature of the controversies ­– their opportunities and their threats – is improved through repetition.
We are always looking for repeating patterns in our investments, building on our existing knowledge, recognising what works, aiming to repeat success and, importantly, learning from our mistakes. We believe that fishing in these same buckets over and over again, will allow us to continue to slowly lean the statistics in the right direction.
Our investment analysis involves highly focused research work, which typically takes about three months to complete. The focus of this painstaking analysis is on understanding a company's return characteristics and its ability to generate cash and sustain its dividend to investors, now and in the future.
Unlike many investment teams, we are more concerned about understanding the downside risk of an investment opportunity, than we are assessing the upside potential. For us, the answer to the question, "What if we are wrong?", is more important than, "What if we are right?". This naturally lends an element of caution to our analysis which is also helpful in leaning the statistics in your favour.
Valuation margin of safety
Investing in companies that are surrounded by controversy inevitably means we tend to be contrarian investors. We are buying into companies at a time when others are fearful. This also means that we tend to be investing at a point when valuations look attractive.
Here too, it is important to acknowledge that we cannot predict the future. Valuation work can never provide you with an undisputable answer and some humility is always necessary. In analysing the sustainability and valuation of underlying cash flows, we do not try to arrive at a precise answer. Instead, we arrive at a view of what we believe to be the fundamental value of a business, whilst accepting that, in reality, that view is unlikely to be entirely accurate. However, by comparing that perceived value against the current share price, we can determine how attractive (or unattractive) a particular investment opportunity is.
By focusing on those opportunities that look most attractive from this perspective (and, by definition, avoiding those that look most unattractive), we build a valuation margin of safety into everything we do. In turn, this helps edge the probabilities in your favour.
This valuation margin of safety can be illustrated in the 'fan of expectations' that we produce and continuously monitor for all holdings. This calibrates a range of future outcomes for each stock through evidence-based scenario analysis.
We are looking for asymmetry in these fans, where the risk is skewed to the upside. This is a uniform output, which allows a like-for-like comparison of all holdings and makes the job of evaluating competition for capital within the portfolio much easier.
The charts below illustrate how we aim to buy the controversy and sell the consensus. We produce these charts for each individual position and collate them all to form a fan of expectations for the entire portfolio. This is, quite literally, a visual representation of how the probabilities can be tilted towards investment success.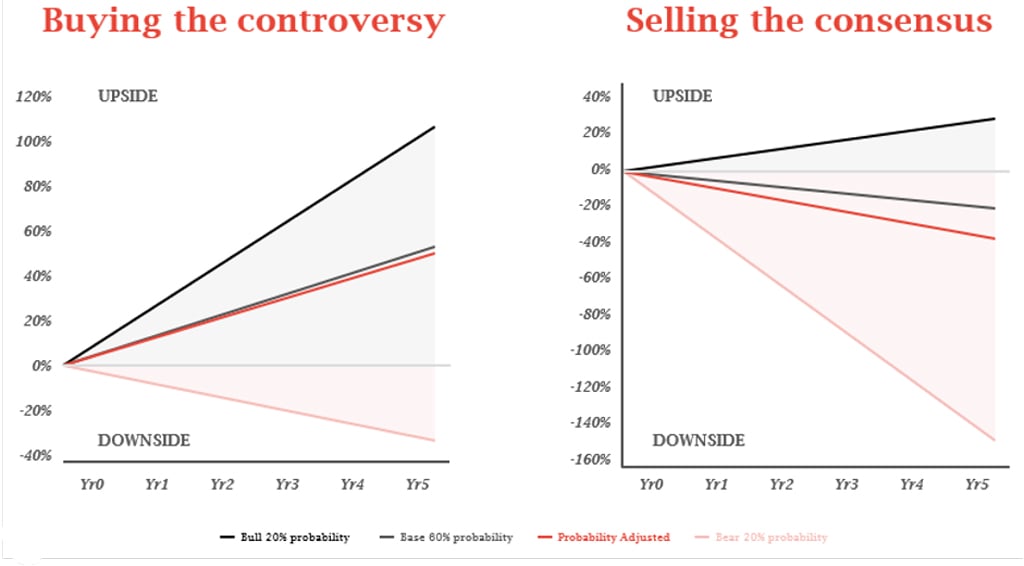 Source: RWC Partners, 30th November 2020. For illustrative purposes only.
When we make a new investment in a company, we identify a number of metrics at the outset which will provide tangible evidence to help us track whether our investment thesis is developing positively or negatively.
We call these our 'flags', and they help us to remain disciplined when reacting to events. All investors will recognise that human emotions can impact one's ability to dispassionately assess how the progress of a share price may relate to a fundamentally grounded investment thesis. The presence of these flags helps prevent us from falling into this behavioural trap. If a share price declines but our flags indicate that operational progress is on track, we can ignore the share price decline and, indeed, consider adding to the position. Furthermore, these flags can sometimes highlight mistakes in our initial analysis which we can react to with the same discipline, to avoid compounding our mistakes.
Setting out in advance what evidence will help us to track the fundamental progress of investment, means we can monitor any structural changes, rather than worrying about short-term share price movements. By retaining discipline in this, as in everything we do, we can improve the probability of achieving successful outcomes.
On the 25th September 2000, the Men's Eight boat came first at the Sydney Olympics, finishing 0.8 seconds ahead of the Australian home crew and winning Gold in that discipline for Great Britain for the first time since 1912. Their accomplishments over the prior two years should act as a reminder that, in combination, the right team, the right approach and the right support, can deliver extraordinary outcomes.
Just like the triumphant Men's Eight crew in Sydney 2000, we believe that embedding discipline into every step of our investment approach, is a sensible starting point for generating positive long-term results. We also always strive to improve by learning from mistakes and by fine-tuning every element of our approach whenever we believe we can. The Global Equity Income Strategy is new to RWC, but the team behind it has been deploying this investment strategy for many years. The knowledge library accumulated through disciplined repetition, resides with the RWC team.
Historically, these disciplines stand at the very heart of the consistent outperformance we have delivered. Individually, none of them are likely to make a material difference to investor outcomes. Collectively, however, they are very powerful, and make for a distinctive and repeatable investment approach.
No investment strategy or risk management technique can guarantee returns or eliminate risks in any market environment.
The term "RWC" may include any one or more RWC branded entities including RWC Partners Limited and RWC Asset Management LLP, each of which is authorised and regulated by the UK Financial Conduct Authority and, in the case of RWC Asset Management LLP, the US Securities and Exchange Commission; RWC Asset Advisors (US) LLC, which is registered with the US Securities and Exchange Commission; and RWC Singapore (Pte) Limited, which is licensed as a Licensed Fund Management Company by the Monetary Authority of Singapore.

RWC may act as investment manager or adviser, or otherwise provide services, to more than one product pursuing a similar investment strategy or focus to the product detailed in this document. RWC seeks to minimise any conflicts of interest, and endeavours to act at all times in accordance with its legal and regulatory obligations as well as its own policies and codes of conduct.


This document is directed only at professional, institutional, wholesale or qualified investors. The services provided by RWC are available only to such persons. It is not intended for distribution to and should not be relied on by any person who would qualify as a retail or individual investor in any jurisdiction or for distribution to, or use by, any person or entity in any jurisdiction where such distribution or use would be contrary to local law or regulation.

This document has been prepared for general information purposes only and has not been delivered for registration in any jurisdiction nor has its content been reviewed or approved by any regulatory authority in any jurisdiction. The information contained herein does not constitute: (i) a binding legal agreement; (ii) legal, regulatory, tax, accounting or other advice; (iii) an offer, recommendation or solicitation to buy or sell shares in any fund, security, commodity, financial instrument or derivative linked to, or otherwise included in a portfolio managed or advised by RWC; or (iv) an offer to enter into any other transaction whatsoever (each a "Transaction"). No representations and/or warranties are made that the information contained herein is either up to date and/or accurate and is not intended to be used or relied upon by any counterparty, investor or any other third party.

RWC uses information from third party vendors, such as statistical and other data, that it believes to be reliable. However, the accuracy of this data, which may be used to calculate results or otherwise compile data that finds its way over time into RWC research data stored on its systems, is not guaranteed. If such information is not accurate, some of the conclusions reached or statements made may be adversely affected. RWC bears no responsibility for your investment research and/or investment decisions and you should consult your own lawyer, accountant, tax adviser or other professional adviser before entering into any Transaction. Any opinion expressed herein, which may be subjective in nature, may not be shared by all directors, officers, employees, or representatives of RWC and may be subject to change without notice. RWC is not liable for any decisions made or actions or inactions taken by you or others based on the contents of this document and neither RWC nor any of its directors, officers, employees, or representatives (including affiliates) accepts any liability whatsoever for any errors and/or omissions or for any direct, indirect, special, incidental, or consequential loss, damages, or expenses of any kind howsoever arising from the use of, or reliance on, any information contained herein.

Information contained in this document should not be viewed as indicative of future results. Past performance of any Transaction is not indicative of future results. The value of investments can go down as well as up. Certain assumptions and forward looking statements may have been made either for modelling purposes, to simplify the presentation and/or calculation of any projections or estimates contained herein and RWC does not represent that that any such assumptions or statements will reflect actual future events or that all assumptions have been considered or stated. Forward-looking statements are inherently uncertain, and changing factors such as those affecting the markets generally, or those affecting particular industries or issuers, may cause results to differ from those discussed. Accordingly, there can be no assurance that estimated returns or projections will be realised or that actual returns or performance results will not materially differ from those estimated herein. Some of the information contained in this document may be aggregated data of Transactions executed by RWC that has been compiled so as not to identify the underlying Transactions of any particular customer.

The information transmitted is intended only for the person or entity to which it has been given and may contain confidential and/or privileged material. In accepting receipt of the information transmitted you agree that you and/or your affiliates, partners, directors, officers and employees, as applicable, will keep all information strictly confidential. Any review, retransmission, dissemination or other use of, or taking of any action in reliance upon, this information is prohibited. The information contained herein is confidential and is intended for the exclusive use of the intended recipient(s) to which this document has been provided. Any distribution or reproduction of this document is not authorised and is prohibited without the express written consent of RWC or any of its affiliates.


Changes in rates of exchange may cause the value of such investments to fluctuate. An investor may not be able to get back the amount invested and the loss on realisation may be very high and could result in a substantial or complete loss of the investment. In addition, an investor who realises their investment in a RWC-managed fund after a short period may not realise the amount originally invested as a result of charges made on the issue and/or redemption of such investment. The value of such interests for the purposes of purchases may differ from their value for the purpose of redemptions. No representations or warranties of any kind are intended or should be inferred with respect to the economic return from, or the tax consequences of, an investment in a RWC-managed fund. Current tax levels and reliefs may change. Depending on individual circumstances, this may affect investment returns. Nothing in this document constitutes advice on the merits of buying or selling a particular investment. This document expresses no views as to the suitability or appropriateness of the fund or any other investments described herein to the individual circumstances of any recipient.

AIFMD and Distribution in the European Economic Area ("EEA")

The Alternative Fund Managers Directive (Directive 2011/61/EU) ("AIFMD") is a regulatory regime which came into full effect in the EEA on 22 July 2014. RWC Asset Management LLP is an Alternative Investment Fund Manager (an "AIFM") to certain funds managed by it (each an "AIF"). The AIFM is required to make available to investors certain prescribed information prior to their investment in an AIF. The majority of the prescribed information is contained in the latest Offering Document of the AIF. The remainder of the prescribed information is contained in the relevant AIF's annual report and accounts. All of the information is provided in accordance with the AIFMD.

In relation to each member state of the EEA (each a "Member State"), this document may only be distributed and shares in a RWC fund ("Shares") may only be offered and placed to the extent that (a) the relevant RWC fund is permitted to be marketed to professional investors in accordance with the AIFMD (as implemented into the local law/regulation of the relevant Member State); or (b) this document may otherwise be lawfully distributed and the Shares may lawfully offered or placed in that Member State (including at the initiative of the investor).

Information Required for Distribution of Foreign Collective Investment Schemes to Qualified Investors in Switzerland

The representative and paying agent of the RWC-managed funds in Switzerland (the "Representative in Switzerland") is Société Générale, Paris, Zurich Branch, Talacker 50,


P.O. Box 5070, CH-8021 Zurich. In respect of the units of the RWC-managed funds distributed in Switzerland, the place of performance and jurisdiction is at the registered office of the Representative in Switzerland.