Surely ''not'' all their stores had to close?
We bid farewell to the UK stalwart Debenhams as well as Cath Kidston, Arcadia group and Victoria's Secret to name a few. But like most cycles, the strong come out stronger. The move to online has benefitted the usual suspects who form the sturdier, more flexible traditional online retailers dominating the market. Amazon takes the throne with a profit increase of nearly 200% since the start of the COVID-19 pandemic.
However, the strong bricks and mortar retailers have seen their online sales soar, faster than solely ecommerce vendors. Data from the ONS and US Census shows online only retailers market share of ecommerce falling during the pandemic (see chart). The trend has continued even as stores re-opened.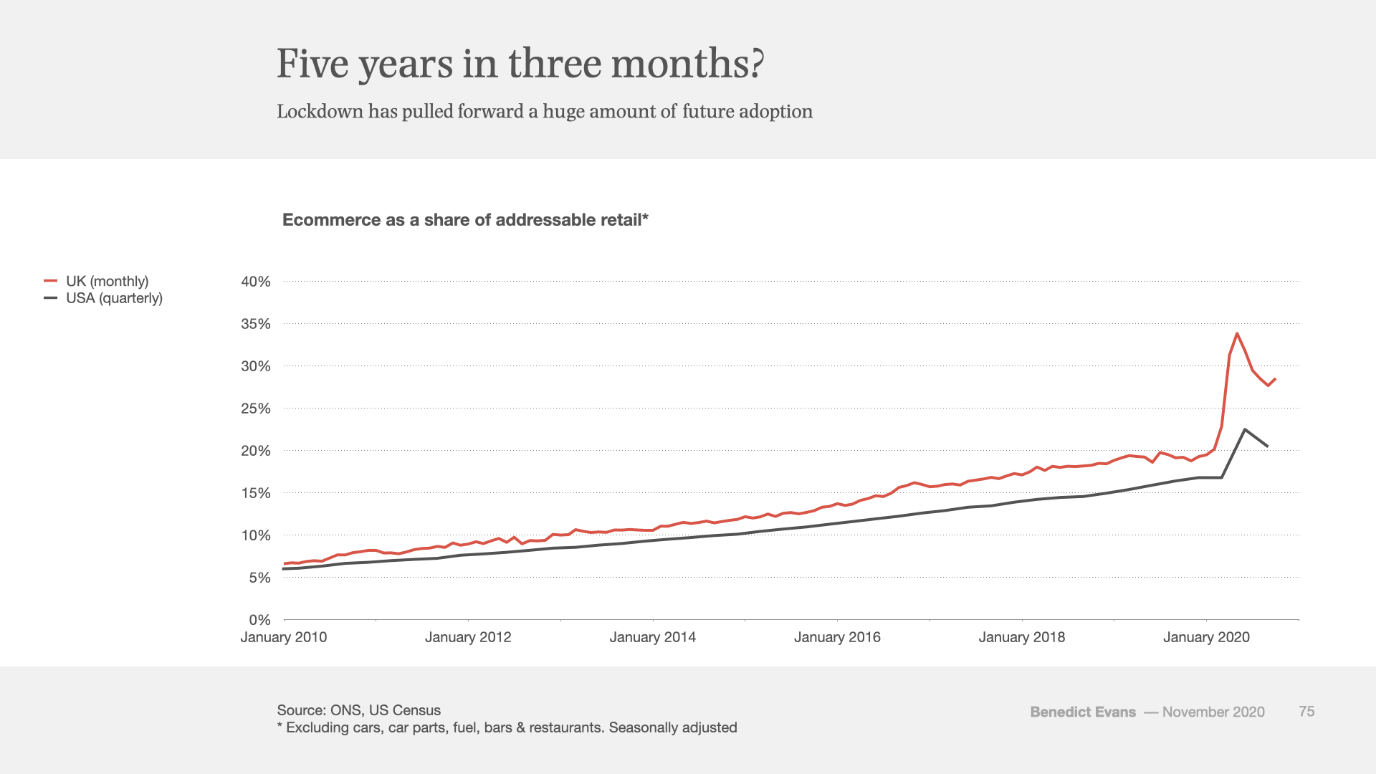 Inditex, the owner of Zara, has seen online sales grow 36% in the last 6 months – on top of growth of 137% last year during lockdown. Tapestry, who own Coach and Kate Spade have similarly gained 4 million new customers during the pandemic. Whereas, Boohoo grew at 28% and ASOS at 20% during the same period of time.
The boost to online sales for some traditional retailers has grown online to a scale where the benefits start to overcome the growing costs. At Inditex online revenue now accounts for 25% of all revenue.
It has long been speculated that the future of retail is a hybrid one – combining ecommerce with stores.  As predicted, this would appear to be playing out, with the online giant Amazon opting to now open physical stores.
The pandemic has removed capacity from the industry, favouring the survivors and boosting online sales to a level where the benefits can flow, whilst simultaneously attracting new customers to the brand. Despite the lockdown lull imposed on traditional retailers, there really is no need for them to brick it as many are emerging stronger than ever. The pond appears to have gotten bigger – now that some of the historical key players have demised – and their valuations remain attractive.
We continue to favour the remaining traditional players moving online rather than the excessively valued online players trying to move into physical. They are re-emerging stronger and on attractive valuations.
Past performance is not a guide to the future. The price of investments and the income from them may fall as well as rise and investors may not get back the full amount invested.
The information shown above is for illustrative purposes only and is not intended to be, and should not be interpreted as, recommendations or advice.
Unless otherwise stated, all opinions within this document are those of the RWC Global Equity Income team, as at 21st October 2021.