I wrote on the subject of profit margins last year in Margin Call and how we try to normalise them as part of our company evaluation. I referred to The Heinz-Kraft Company (KHC) and how under 3G Capital, a private equity firm, margins were significantly raised at KHC. A consequence of those expanding margins was underinvestment, which subsequently caused earnings to drop. With the toxic mix of falling earnings and massively increased financial leverage the stock price tanked. That stock price remains 60% below its 2017 high. The topic is a bit of an obsession of mine, because it forced many other companies in the fast-moving consumer goods sector (FMCG) to follow the same path, often under enormous pressure from shareholders. It is also one that takes years to play out.
Back in early 2016 Warren Buffet could not have been higher in his praise for 3G and their approach:
"Jorge Paulo and his associates could not be better partners… Their method, at which they have been extraordinarily successful, is to buy companies that offer an opportunity for eliminating many unnecessary costs and then – very promptly – to make the moves that will get the job done. Their actions significantly boost productivity, the all-important factor in America's economic growth over the past 240 years. Without more output of desired goods and services per working hour – that's the measure of productivity gains – an economy inevitably stagnates. At much of corporate America, truly major gains in productivity are possible, a fact offering opportunities to Jorge Paulo and his associates"
In the last decade we have seen challenger and local brands really make an impression in consumer markets. Illustrating the point are trends towards challenger personal care products (Harry's and Dollar Shave Club for razors, Rodan + Fields for skincare), baby care such as nappies (ECO by Naty) and baby food (Ella's Kitchen), alcoholic drinks (craft beers such as BrewDog and countless gins like Sipsmith), tonic (Fever-Tree), ice cream (Halo Top) and local breweries, artisan coffee and artisan breads (Gail's Bakery in London). This has put pressure on the large branded players. It has meant slower organic growth and market share losses. The question is whether this trend was a function of a changing marketplace in terms of customer tastes and behaviour or if it was a massive own goal by the big brands themselves that allowed this to happen. Bernstein Research gives a very interesting take on these changes.

Bernstein shows that operating margins for this sector are inversely correlated with organic growth and ultimately returns on invested capital; the higher a company pushes its operating margins, the lower organic growth and lower ROIC (see figures 1 and 2). It sounds somewhat counterintuitive; usually operating leverage results in higher margins accompanying higher sales. In this situation, however, the more that costs are taken out, be that from marketing or innovation, the lower the sales growth rate. How do you offset this top line pressure? If volume growth is under pressure, you can offset it with price increases. This is deeply unhealthy and unsustainable, the further you move from your competitor pricing the more susceptible you are to product switching.

If you cannot get the top line moving organically, an alternative route is to acquire growth through acquisition. Many of the above challenger brands have been acquired, while there have also been the big deals, for example Danone's purchase of WhiteWave for $12.5bn and Reckitt Benckiser's purchase of Mead Johnson for $17.8bn, both at premium valuations. This inorganic route, often accompanied by share buy backs, funded by leveraging the balance sheet, can keep the music going for a while. Since 2013 Danone and Reckitt Benckiser have doubled and tripled their respective leverage levels. Both companies are now in significant trouble, have suffered significant share price declines and face margin resets. And it doesn't end there for the FMCG companies, Bernstein flags another challenge currently accelerating; the growth of e-commerce and the power it gives to the gatekeepers such as Ocado or the likes of Wal-Mart and Tesco with their online platforms. This puts additional pressure on sector margins and sales growth. Covid-19 has given such e-commerce a big boost. All this comes at a point when valuations for the sector have been driven higher by low interest rates and in the form of the bond proxy trade, adding valuation risk to the earnings and financial risks described above. While it is difficult to precisely attribute causation for the rise of the challenger and local brands, Bruno Monteyne at Bernstein says, "Margin targets provided oxygen for fragmentation". You could also argue strongly that 3G, and their cheerleader Warren Buffett, bear much responsibility for what has happened. It was the example they set on "eliminating many unnecessary costs" and their very public touting of this business model, which has led the sector and underlying shareholders on this very merry dance…
Figure 1 European Food & HPC - EBIT Margin V Organic Growth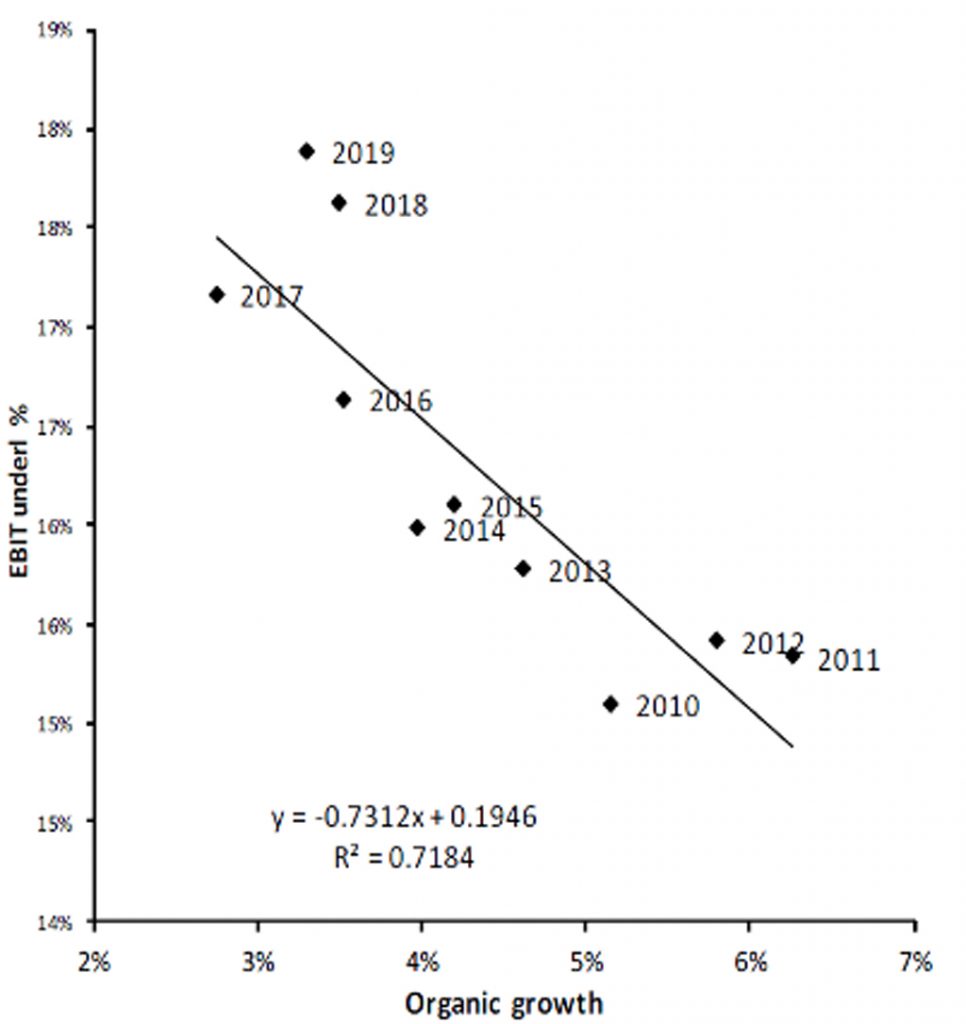 Figure 2 European Food & HPC Sector – ROIC v EBIT Margin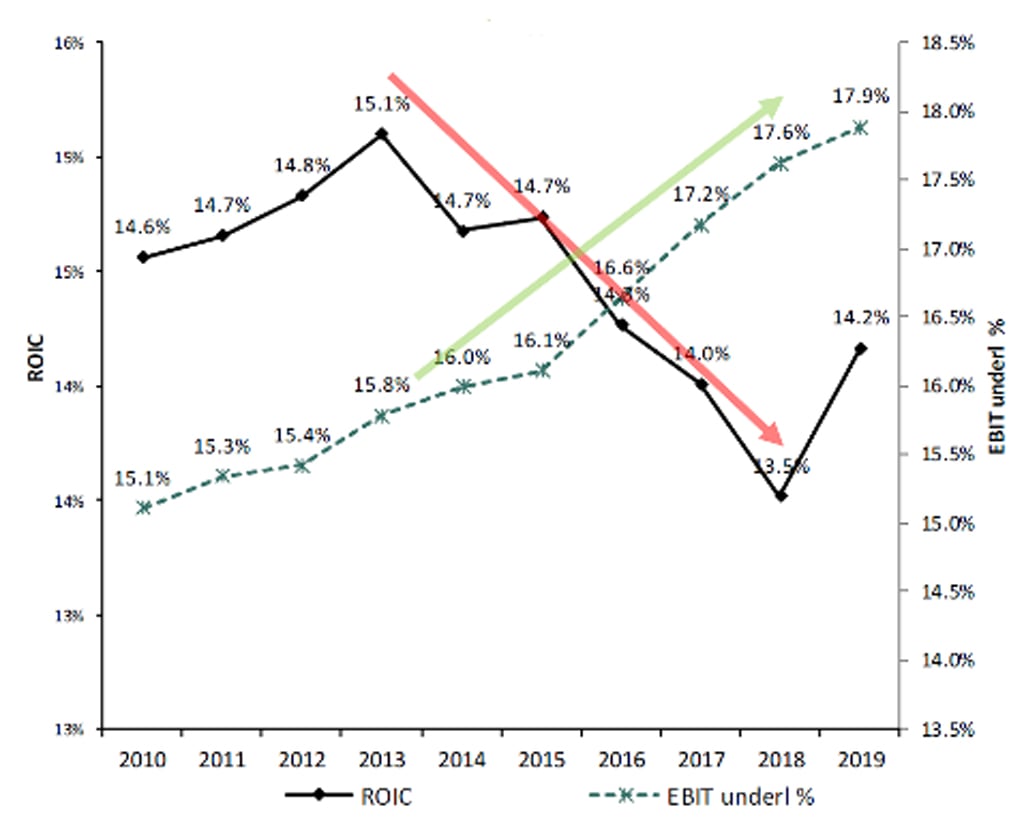 Source: Company reports, Euromonitor, Bernstein analysis.
Sector averages based aggregating all Invested capital, across companies (in Euros), and aggregating all NOPATs and EBITs across companies.

Past performance is not a guide to the future. The price of investments and the income from them may fall as well as rise and investors may not get back the full amount invested.
The term "RWC" may include any one or more RWC branded entities including RWC Partners Limited and RWC Asset Management LLP, each of which is authorised and regulated by the UK Financial Conduct Authority and, in the case of RWC Asset Management LLP, the US Securities and Exchange Commission; RWC Asset Advisors (US) LLC, which is registered with the US Securities and Exchange Commission; and RWC Singapore (Pte) Limited, which is licensed as a Licensed Fund Management Company by the Monetary Authority of Singapore.

RWC may act as investment manager or adviser, or otherwise provide services, to more than one product pursuing a similar investment strategy or focus to the product detailed in this document. RWC seeks to minimise any conflicts of interest, and endeavours to act at all times in accordance with its legal and regulatory obligations as well as its own policies and codes of conduct.


This document is directed only at professional, institutional, wholesale or qualified investors. The services provided by RWC are available only to such persons. It is not intended for distribution to and should not be relied on by any person who would qualify as a retail or individual investor in any jurisdiction or for distribution to, or use by, any person or entity in any jurisdiction where such distribution or use would be contrary to local law or regulation.

This document has been prepared for general information purposes only and has not been delivered for registration in any jurisdiction nor has its content been reviewed or approved by any regulatory authority in any jurisdiction. The information contained herein does not constitute: (i) a binding legal agreement; (ii) legal, regulatory, tax, accounting or other advice; (iii) an offer, recommendation or solicitation to buy or sell shares in any fund, security, commodity, financial instrument or derivative linked to, or otherwise included in a portfolio managed or advised by RWC; or (iv) an offer to enter into any other transaction whatsoever (each a "Transaction"). No representations and/or warranties are made that the information contained herein is either up to date and/or accurate and is not intended to be used or relied upon by any counterparty, investor or any other third party.

RWC uses information from third party vendors, such as statistical and other data, that it believes to be reliable. However, the accuracy of this data, which may be used to calculate results or otherwise compile data that finds its way over time into RWC research data stored on its systems, is not guaranteed. If such information is not accurate, some of the conclusions reached or statements made may be adversely affected. RWC bears no responsibility for your investment research and/or investment decisions and you should consult your own lawyer, accountant, tax adviser or other professional adviser before entering into any Transaction. Any opinion expressed herein, which may be subjective in nature, may not be shared by all directors, officers, employees, or representatives of RWC and may be subject to change without notice. RWC is not liable for any decisions made or actions or inactions taken by you or others based on the contents of this document and neither RWC nor any of its directors, officers, employees, or representatives (including affiliates) accepts any liability whatsoever for any errors and/or omissions or for any direct, indirect, special, incidental, or consequential loss, damages, or expenses of any kind howsoever arising from the use of, or reliance on, any information contained herein.

Information contained in this document should not be viewed as indicative of future results. Past performance of any Transaction is not indicative of future results. The value of investments can go down as well as up. Certain assumptions and forward looking statements may have been made either for modelling purposes, to simplify the presentation and/or calculation of any projections or estimates contained herein and RWC does not represent that that any such assumptions or statements will reflect actual future events or that all assumptions have been considered or stated. Forward-looking statements are inherently uncertain, and changing factors such as those affecting the markets generally, or those affecting particular industries or issuers, may cause results to differ from those discussed. Accordingly, there can be no assurance that estimated returns or projections will be realised or that actual returns or performance results will not materially differ from those estimated herein. Some of the information contained in this document may be aggregated data of Transactions executed by RWC that has been compiled so as not to identify the underlying Transactions of any particular customer.

The information transmitted is intended only for the person or entity to which it has been given and may contain confidential and/or privileged material. In accepting receipt of the information transmitted you agree that you and/or your affiliates, partners, directors, officers and employees, as applicable, will keep all information strictly confidential. Any review, retransmission, dissemination or other use of, or taking of any action in reliance upon, this information is prohibited. The information contained herein is confidential and is intended for the exclusive use of the intended recipient(s) to which this document has been provided. Any distribution or reproduction of this document is not authorised and is prohibited without the express written consent of RWC or any of its affiliates.


Changes in rates of exchange may cause the value of such investments to fluctuate. An investor may not be able to get back the amount invested and the loss on realisation may be very high and could result in a substantial or complete loss of the investment. In addition, an investor who realises their investment in a RWC-managed fund after a short period may not realise the amount originally invested as a result of charges made on the issue and/or redemption of such investment. The value of such interests for the purposes of purchases may differ from their value for the purpose of redemptions. No representations or warranties of any kind are intended or should be inferred with respect to the economic return from, or the tax consequences of, an investment in a RWC-managed fund. Current tax levels and reliefs may change. Depending on individual circumstances, this may affect investment returns. Nothing in this document constitutes advice on the merits of buying or selling a particular investment. This document expresses no views as to the suitability or appropriateness of the fund or any other investments described herein to the individual circumstances of any recipient.

AIFMD and Distribution in the European Economic Area ("EEA")

The Alternative Fund Managers Directive (Directive 2011/61/EU) ("AIFMD") is a regulatory regime which came into full effect in the EEA on 22 July 2014. RWC Asset Management LLP is an Alternative Investment Fund Manager (an "AIFM") to certain funds managed by it (each an "AIF"). The AIFM is required to make available to investors certain prescribed information prior to their investment in an AIF. The majority of the prescribed information is contained in the latest Offering Document of the AIF. The remainder of the prescribed information is contained in the relevant AIF's annual report and accounts. All of the information is provided in accordance with the AIFMD.

In relation to each member state of the EEA (each a "Member State"), this document may only be distributed and shares in a RWC fund ("Shares") may only be offered and placed to the extent that (a) the relevant RWC fund is permitted to be marketed to professional investors in accordance with the AIFMD (as implemented into the local law/regulation of the relevant Member State); or (b) this document may otherwise be lawfully distributed and the Shares may lawfully offered or placed in that Member State (including at the initiative of the investor).

Information Required for Distribution of Foreign Collective Investment Schemes to Qualified Investors in Switzerland

The representative and paying agent of the RWC-managed funds in Switzerland (the "Representative in Switzerland") is Société Générale, Paris, Zurich Branch, Talacker 50,


P.O. Box 5070, CH-8021 Zurich. In respect of the units of the RWC-managed funds distributed in Switzerland, the place of performance and jurisdiction is at the registered office of the Representative in Switzerland.